MTK Auth Bypass Tool V31 | Extract Huawei Update. App To Scatter Firmware One Click
MTK Auth Bypass Tool V31 is a free windows program that helps to bypass DAA & SLA Auth (Secure Boot protection) from any MediaTek MTK powered phone quite easily.
Nowadays, every Android smartphone comes with USB protection to avoid third-party flashing and misuse of the device. You won't be able to flash or unlock your phone without any authorized tool or permission. So, in this scenario, the MediaTek MTK Secure Boot Disable Tool can help you to bypass the auth security from your phone.
MTK Auth Bypass Tool v31 helps to detect any Oppo, Vivo, Tecno, Xiaomi Redmi, Infinix, MTK based smartphones into the SP flash tool, Miracle Box, UMT, MRT, MCT, CM2 Dongle for Flashing, Unlocking, and Repairing the phone. It comes with an auto-installer package and supports Windows 11, Windows 10, Windows 8, Windows 8.1, Windows 7, Windows XP (32 & 64bit) architecture.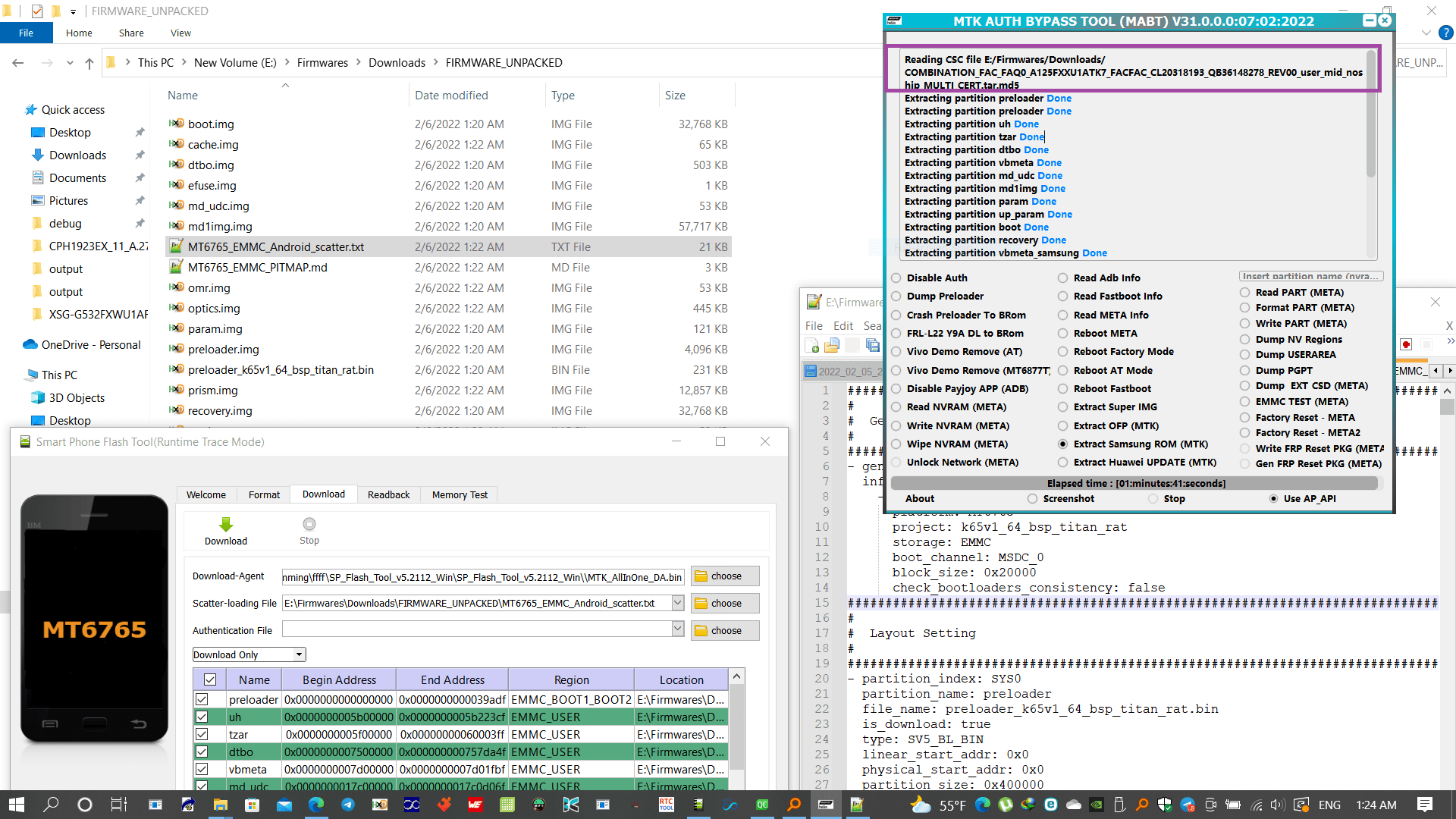 Like, Follow, Subscribe me on :
All Mobile Firmware:: Link
Supported CPU's:
MT6572
MT6580
MT6582
MT6592
MT6595
MT6735
MT6737
MT6739
MT6753
MT6755
MT6750
MT6750M
MT6750T
MT6750S
MT6757
MT6761
MT6762
MT3369
MT8766B
MT6763
MT6765
MT6768
MT6771
MT6779
MT6785
MT6795
MT6797
MT8127
MT8163
MT8516
MT8173
MT8695
MT6873
MT6799
MT8590
MT6781
MT6768
MT6883
MT6885
MT6889
MT6833
MT6853
MT6853V
MT6873
MT6891Z
MT6893
MT8765WB
MT8385
MT8183
MT8666.
Changelog !!!
MTK Auth Bypass Tool V31 :
– Added convert Huawei MTK ROM (update.app) to flashable scatter firmware.
– to help unbrick dead HUAWEI MTK devices via Brom mode.
– (use it for bricked devices only).
Samsung firmware extractor is fixed now and can work with older devices like G532F,
– both (.img and .lz4) format's are supported now.
– now you can convert combination ROM to scatter and flash via BRom as well.
How To Use?
Download & Unzip the MediaTek Secure Boot Disable Tool to your computer.
Run MTKAuthBypassToolV31.exe
Install LibUSB Win32 driver to your computer (Skip this if already completed)
Now Power Off your phone
Press Volume Up And Power and Insert a USB cable
Click Disable Secure Boot
If the Disable Secure Boot process does not work, use the Force BROM function.
That's it.
It will bypass the Auth Security from your phone.
Now you can use any unlock tool like SP Flash Tool, Miracle Box, UMT, CM2 to unlock your phone.
MTK Auth Bypass Tool V31 is a free software tool designed to bypass MTK Authorized Encryption (MTKE) Authentication. The software gives you the ability to bypass MTK Auth Disconnect/Disconnecting feature and MTK Auth Direct Connect Feature.
Features of MTK Auth Bypass Tool V31 Latest Version Free Download
The MTK Auth Bypass Tool V31 is a tool used to bypass the Anti-Tamper and Anti-Modify features of the popular MTK software. It is built with the aim of adding HTTPD's authentication bypass feature, making it much easier to use HTTPD with minimal configuration.
How to Crack OnePlus 5T with MTK Auth Bypass Tool V31 Latest Version Free Download
In the first part of this series, we covered how to crack a OnePlus 5T with MTK Auth Bypass Tool V31 Latest Version Free Download. In this part, we will cover how to bypass the login screen with mtk auth bypass tool v31 latest version free download.
MTK Auth Bypass Tool V31 is a remote access tool that can mostly be used to bypass mtk auth. We'll discuss how to use it in the future.