Gorontalo MTK / Qualcomm Tool V3.5 FREE With Login key
MTK Gorontalo Tool V3.5 MTK Qualcomm Latest Repair tool. This is a simple, free application that was created by the Gorontalo Team to help users bypass AUT protection on various modern MTK chipset-powered Android smartphones. SP Flash Tool can be used to remove the FRP pattern lock from your phone.
Like, Follow, Subscribe me on :
All Mobile Firmware:: Link
This update contains the new functions of speedboot and qualcomm, which allow you to repair your device with just one click.
Every Android smartphone comes with USB security. This tool allows you to bypass the authentication security of your phone.
Gorontalo MTK tool allows you to locate all Oppo and Vivo smartphones. It also supports Windows 8.1, Windows 7 and Windows XP 32 and 64 bit architectures.
Features Gorontalo MTK Tool:
Supported Brands:
– Oppose

– Samsung

– vivo

– realme

– Xiaomi

– – infinix

– Lenovo

– Huawei

– Asus

– Meizu

– Tecno

Other MTK
More devices suported ! ! !
Functions:
Format Factory

Erase FRP

Format OLD Type

Erase FRP New OS

Safe Format Data

Erase FRP (Samsung)

Backup OEM (Huawei)

Erase Mi Cloud TAM

Restore OEM (Huawei)

Erase NV (Baseband)

(UBL)Unlock Bootloader

Read Dump Preloader

Remove Demo CPH/RMX

Backup Dump Boot

Remove Demo VIVO

Bypass Auth MTK
Drivers
– MTK Driver

– MTKChina

– UsbDk x64

– UsbDk X86
Fastboot
– UBL Status

– Reboot System

– Check Type

– ARB Status
Changelog !
! !
Qualcomm Mode
Wipe Data

FRP Remove

Mi Account Bypass

Wifi Fix (Method 1, 2, 3)

Write Flash

Supported (Oppo, VIVO, Xiaomi)

Format Unlock
Fastboot Mode
Read Info

VIVO, Xiaomi, Huawei
All drivers Qualcomm 9008 and all MTK SOC's
How To Use?
To begin, click the link to download the ZIP file.

Next, delete all files from drive c: It is vital

Next, open the folder where you want to extract the configuration file.

Start the Setup " SetUP MTK Tool V3.5.exe

Install the setup file. Run the shortcut from your desktop with admin access.

Next, need to activate the tool, click on the activation button and box type "GORONTALO-SAHRILTECHNO" activation code click ok, and the tool is executed on your computer in the next few seconds only.

If you have already installed drivers, skip this step.

Use the Bluetooth connection to connect your phone and perform any function

Enjoy !!

!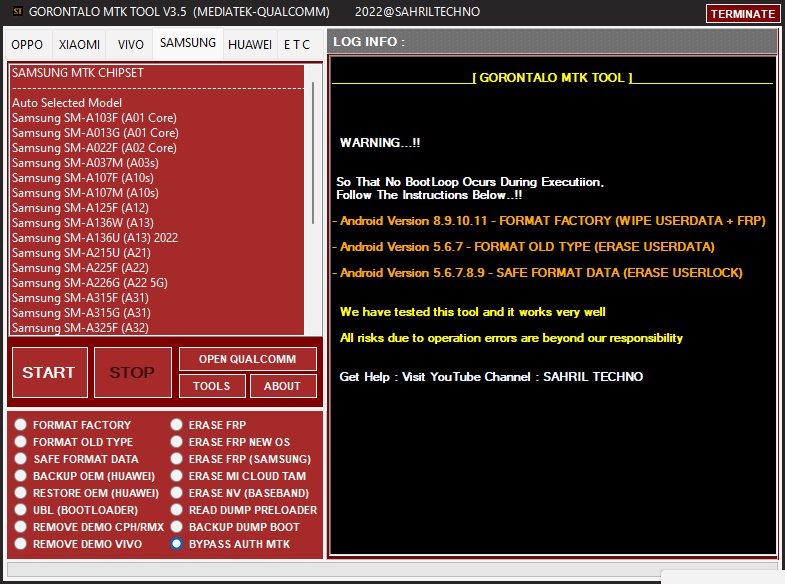 MTK Qualcomm Latest Repair Tool
This tool repairs both hardware and software problems on your device.
Software problems such as failure to update the system or bootloops among others.

Hardware issues such as screen problems and battery drains, among others.
This MTK Qualcomm repair tool has been designed to help you fix any issue related to your MTK Qualcomm smartphone.
This program will repair the damaged screen of your phone. This software requires root access. It has been tested.
MTK Gorontalo Tool v3.5
This is the latest version of MTK Gorontalo's repair software. You can use it to replace cracked glass or repair cracked screens.
This program can repair your phone's screen. This software has been tested and works well.
This latest version of MTK Gorontalo can be used to fix hardware issues on your Android phone. You can download the tool from this website.
This program will fix your screen problems. You can download the program for free and install it.
MTK Gorontolo Tool
The MTK Gorontolo Tool is a handy tool that can help you solve common problems such as button stuck, battery problems, and other problems.
MTK Gorontalo Tool V3.5 MTK Qualcomm Latest Repair tool
MTK Gorontalo Tool v3.5 MTK Qualcomm latest Repair tool with support to the strengthening of MT-N.
Gorontalo MTK Tool V3.5 Update Qualcomm
Gorontalo MTK Tool is a free and simple software that allows users to bypass AUT protections on a wide variety of Android phones powered by MTK chipsets.
Download Link:: Link