EVOTool Version 1.2.1 (Free Login) – Working 100% Tool Download
EVOTool v1.2.1 can be described as a tiny Windows-based computer tool. It allows users to accomplish various tasks using a preloader or edit mode. The tool is also able to support Apple as well as EMMC operations. The latest tool version comes with a free login for all users. I've uploaded videos on my YouTube channel that you can view and read the complete details on how to register and sign into the tool.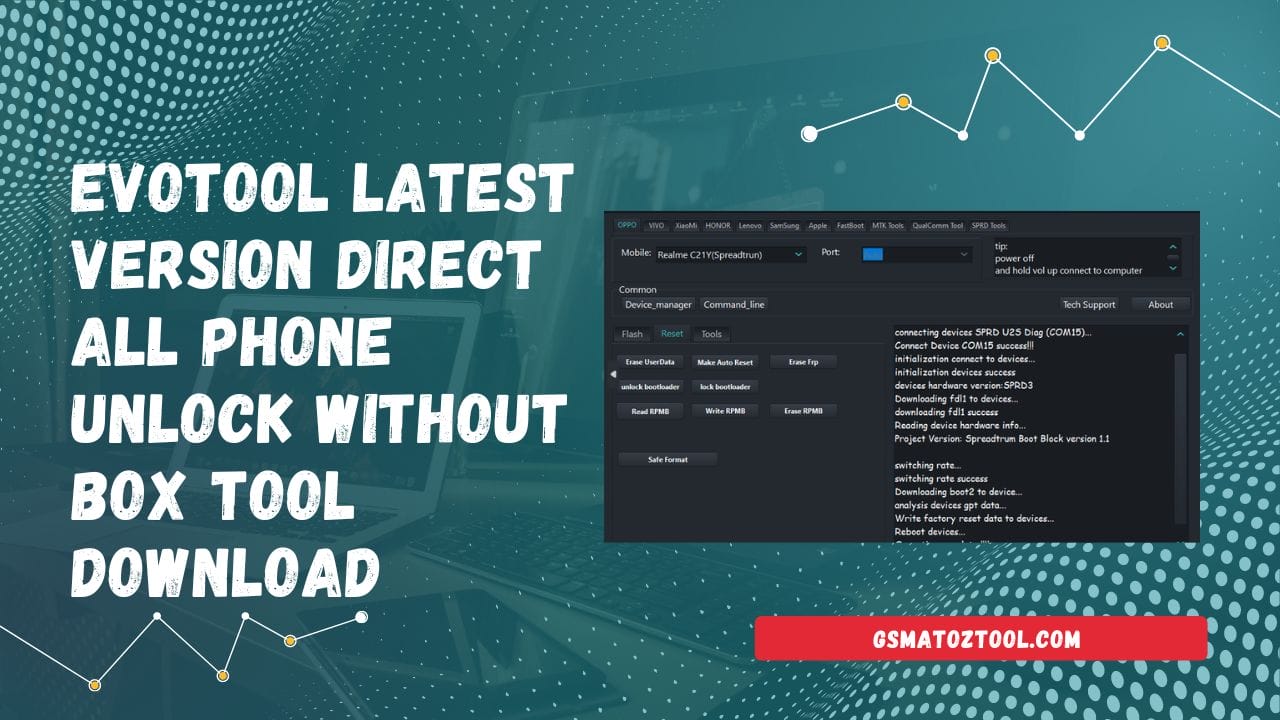 Download EVOTool Version 1.2.1 (Free Login) – Working 100% Tool
GSM ATOZ TOOL
https://chat.whatsapp.com/
GSM ATOZ TOOL
https://chat.whatsapp.com/
GSM ATOZ TOOL
https://chat.whatsapp.com/
GSM ATOZ TOOL
https://chat.whatsapp.com/
Features EVOTool:
Repair IMEI
IMEI (International Mobile Equipment Identification) is the unique number used to identify the mobile network. It is thought of like your mobile's Social Security number. It's 15 digits long and is assigned to each GSM phone and CDMA phone…
Repair MAC
Each network card (Network Interface Card) has a unique MAC (Media Access Control) address. This applies to all kinds of networks, such as Ethernet cards and WiFi cards. This is because the MAC Address is a six-byte or 12-digit hexadecimal …
Patch Certificate
To help answer this question for you here's some background information on how phones function in terms of software. Each phone comes with a serial number (IMEI). It is digital information that is connected to the phone at production…
Reset FRP Lock/ FRP Remove
If an FRP is done by an Android device that is not authorized by the owner's consent, The FRP will display the message "This device has been reset. To proceed, sign in using an existing Google Account previously synced to the device." The…
Network Factory Reset
Network Factory reset resets all related settings for the network to the factory settings of the device before when any provider or company sets it up. This is a way to fix devices that aren't connected to networks that work with the factory settings.
Read Codes Online
This feature is ideal for you if you're wondering about the default unlock code for networks or if you've used the wrong code and your device needs an "unfreeze" code. This could cost you credits; however, you'll be informed…
SW Change
This SW change feature lets you upgrade or reduce the firmware version on the device. Another reason to use this option is when you encounter no-boot errors or a freeze issue on the device. In most cases, an easy SW modification can resolve the issue…
Unlock / Relock the Bootloader
In simplest terms, the definition of a bootloader is that it is software that is run every time your phone boots up. It informs your phone of the apps to load to let your phone function. The bootloader program starts with the Android operating system whenever you…
CSC Change
CSC is "Consumer Software Customization" or "Country Specific Code." CSC is an important part that is part of Samsung firmware. CSC is an essential component of firmware binaries containing various crucial data such as custom settings Syst…
Device Info
All vital information and the device's status are accessible directly through the phone—for instance, serial numbers, hardware information, factory information, etc.
Read Certificate
Like the title of this service might suggest, using the Read Cert, you save certificate information. What exactly is the Cert file? In essence, it is digital data connected to the phone in production and authenticated by the maker…
Write Certificate
You can recover the data from your certificate by using the writing Cert. It is essentially digital data that is linked to the phone at manufacturing. The manufacturer also authenticates it. This is known as a Certificate. This certificate…
Store / Restore Backup
The function store/restore backup is utilized to back up your device's individual safety and calibration features. It can be done before when you begin working on the device, or you can do it before each step. We will try to make backups…
Changelog!!!
EVONDT Tool Version 1.2.1 Update
December 11, 2022
Samsung Spreadtrun

First in the World Support

Samsung A032F frp erase one click

Samsung A03FF frp erase one click
EVONDT Tool Version 1.2.0 Update
November 21, 2022
add fix Huawei honor chip damage

Set Huawei to the correct setting and respect Qualcomm OEMINFO backup and erase, write;

Add Samsung MTP #0# enable USB debug

Modify Android MTP to enable USB to debug. Now enable the OPPO device or any other driver for MIDI ADB.

Add Samsung MTP Factory Reset

MTP and Adb add open USBDebug, open Mobile setting one click

MTP and Adb add the app to your device with just one click

Add EMMC Reader Tool. You can use USB, the MMC reader, and ISP using EVOTool

add Honor Play 20 Pro Support

Add VIVO the Y51 PD2050 support

Add Xiaomi 11T[agate] Support

add poco c31 Support

add poco x2 Support

include redmi pad support

Add iphone 7 gsm support

Add support for the iPhone 8 GSM
EVO Tool Version 1.1.9 Update
November 8, 2022
add Huawei Honor 480

One of the First Add Huawei Qualcomm's Qualcomm CPU 480P chip for 5G Mobile Support

Support Read information, read flash and write flash, erase unit, erase the account, delete from the file…

ex, maiming 10 se, U-MAGIC ENJOY 30E

First in the World to Add Honor Qualcomm CPU 480+ Chip Support

ex,8X 5G VNE-N41 ,Play 30 VNE-AN00,Play 6C VNE-AN40,

include Magic4 Lite ANY, MaterPad SE 10.4-inch,Honor X9 5G, X40 Support Add Magic4 Lite ANY, Honor X9 5G, X40 Support !

new information about Huawei and Honor continues to come in…
EVONDT Tool Version 1.1.8 Update
November 4, 2022
Update APPLE

Add iPhone devices boot pwndfu Ramdisk support.

Add Apple IOS Devices Bypasscode function.

The oppo support is preloaded with Brom.

Adjust the preluder driver boot

Preload the Brom switch with preloaded data.

Adjust Xiaomi recovery devices to boot.

In addition to the MTP & ADB function, you can activate the interface and use the open web feature of the Evo tool or the application.

FRP can be erased if your mobiles enable ADB

Detailed description: 117-evondtevotool-ver-118-new-update
EVOTool  1.1.7
November 2, 2022
fix_bug

fix oppo MDM unlock error bugs
EVOTool  1.1.6
September 26, 2022
Add function, and fix bugs.

Add Honor X40 Qualcomm Support

Add Honor X30 Qualcomm 659 Support

Add Honor X9 5G Qualcomm Support

Add Magic 4 Lite Qualcomm Support

Additional MTK devices to VIVO and OPPO include in the list.

Additional, Xiaomi Redmi adds you erase frp and cloud recovery.

A lot of Vivo and oppo Emi add-ons; with this for Android 12 unlock, with the ability to fix bugs.
EVONDT 1.1.5
September 21,2022
Add function

It's the first time in all of history. To support realme opposition, MK 6885, 6883, and Cpu mdm 6889, 6891, 6893 unlock, sim lock.

First, in the world, a New Xiaomi device supports unlocking frp, and micloud one-click Cloud added to Xiaomi Redmi phone support: Xiaomi 10 light zoom(van Gogh) Blackshark4s, blackshark4 POCOF4 (munch) Redmi K40s (munch) Xiaomi 10T Pro(apollo) Xiaomi 10T (apollo) RedMi K30s (apollo) Xiaomi 11 Lite(Courbet) Xiaomi 10 cas(cas)

Adjust Xiaomi Micloud's disable method, which is more simple and secure;
EVOTool  1.1.4
September 20, 2022
Add function

A new function has been added to Xiaomi Redmi Poco devices. With this, you can erase your frp in micloud in one click. However, before doing that, you need to open fastboot read mobile and select your phone's model. If not, then you may require a flash device, and this function will only support the miui 12.5 system.

Add mtk 6891 and the 6977 support.

Include Xiaomi sdm662 firehose

Support Redmi 9 Power Redmi 9T Redmi Note9 4G Poco_M3;
EVOTool  1.1.3
September 19, 2022
Add function, and fix bugs.

Add Oppo realme reno patch MDM;

Add oppo realme reno patch simlock;

Add Vivo 6765 6763 and 6771 preloader to Brom.

Add VIVO IMEI Repair;

Add oppo Qualcomm 855 855 plus CPU support;

Fix vivo mtk 6765 6763 6771 preloaders erase frp;

Make sure that other bugs are fixed;
How To Use?
In the beginning, you must get the ZIP file by clicking the link below.

Then, you should remove all files from 

the drive c:

 ( 

important)

Verify that you have removed the antivirus before installing the application

Then to open the folder, set up the setup file using some basic instructions.

Start the tool using your shortcut " 

EVOTool

."

Then, click on the register button and then create an account.

Return to the tool, enter the login details, then click on the login button.

Done !!! Now, the tool is opened.

Then, you'll be able to install all drivers if you already have them installed. If not, skip this step.

Connect the phone to the internet and try to perform any task

Enjoy !!!
How To Download
If you want to download the latest version of EVOTool, you can do so directly from the official website. This tool is designed to unlock all phones without the need for a box, and it is completely free to download. Simply click on the "Download" button on the homepage, and then follow the instructions on the screen to complete the process.
Download Link:: Link